Psalm Performing Arts Center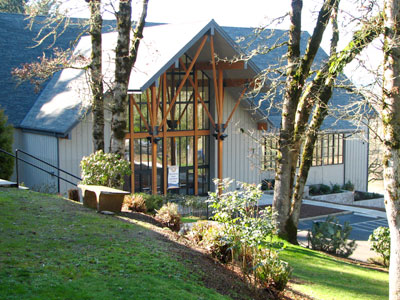 The Psalm Performing Arts Center, which opened in April of 2005, has enhanced and elevated the experience of worship in chapel services, complemented drama performances, and made the most of music concerts. It also serves as a venue for many church and community events.
Seating for 700 guests is split between floor level and balcony (stadium) seating. With its curved cathedral ceiling the facility has near perfect acoustics.
The Psalm Annex, connected on the south side of the Psalm Center, is home to music practice rooms and classrooms.
The Psalm Visual Arts Gallery attracts visitors to monthly shows featuring area artists and photographers. The "walking gallery" is adjacent to the lobby overlooking the lower campus.
The Psalm Mezzanine is a comfortable retreat for students seeking a study area. It is also used as a reception area for events held at the Center. The conversation area in the main lobby features the three Psalms for which the building was named: Psalm 111, 112, and 113.