Prewitt/Van Gilder Halls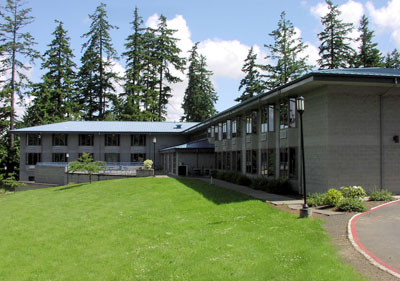 Prewitt and Van Gilder Hall (fondly nicknamed "PVG") is split into one men's hall and one women's hall on gender-specific floors. Some of Prewitt and Van Gilder Hall's facilities include community bathrooms, a massive community space for its residents to enjoy, a full kitchen, two quiet study rooms, and a movie room.
Prewitt Hall is home to nearly 135 women and is named for Mildred Prewitt-a lifelong supporter of the University. Van Gilder Hall is home to about 40 men and is named for Dr. H. O. Van Gilder, the University's second president.
---
Facilities
Campus Care
Computer Lab
Library / Academic Center
Music House A
Music House B
Oak Grove Amphitheater
Psalm Performing Arts Center
Pavilion / Student Center
Schimmel Hall (Administration)
Student Life House
Travis Memorial Dining Hall
Western Way
Residences
Aagard Hall
John G. Balyo Hall
College Park Townhomes
Alton and Joan Velde Davidson Hall
Farrar Hall
Prewitt / Van Gilder Halls (PVG)
Sports Facilities
Athletic Activities Office
C.E. Jeffers Sports Center
Baseball Field
Soccer Field
Softball Field