Frequently Asked Questions
How can I receive literature and more information about Corban University?
Call the Admissions Office at 1-800-845-3005 or 503-375-7005. You can also e-mail us at admissions@corban.edu.
What will it take to qualify for admission to Corban?
Acceptance to Corban requires a minimum SAT score of 900 or ACT score of 19 and a minimum high school GPA of 2.7. Students must also demonstrate a personal relationship with Jesus Christ and submit a Christian Character Reference form.
How do I apply?
Apply online now for the traditional undergraduate program 
What are Corban's distinctives?
As a small university, students at Corban have excellent access to personnel who are there to encourage them in developing their relationship with God, and mentor in order to help them achieve their academic and career goals.
As a Christian university, Corban requires a core of 24 units of Bible (equaling a Bible minor) and theology with any major, thus providing an accredited liberal arts degree with all the advantages of a Bible college. We want all graduates to think and act like Christians; not compartmentalize their lives into biblical and non-biblical areas.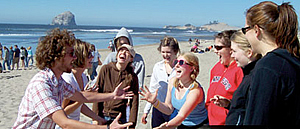 Where do Corban's graduates currently serve?
More than 7,000 alumni serve in businesses, communities, schools, churches, government and mission fields worldwide.
What programs are available at Corban?
Corban has more than 50 majors and program options. To view a list, click here.
What is student life like outside the classroom?
Student life provides the opportunity to develop lifelong friendships, become involved in intercollegiate and intramural athletics, and experience a wide variety of fellowship events. Click here to go directly to the Student Life webpage.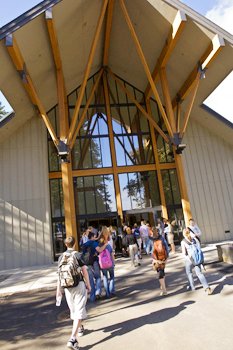 What encouragement is there on campus for my spiritual life?
On-campus programs such as chapel three days a week and fellowship groups offer great inspiration and accountability. Check with your resident hall director to see what Bible studies are being offered.
The Reach assignments (required participation for graduation) during the academic year as well as spring break and summer mission trips provide experience and personal growth for spiritual development.
What opportunities are there for studies abroad?
Corban University works with 15 study-abroad programs that can help you expand your college experience.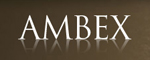 AMBEX is Corban's extension campus located in the heart of Bavaria—beautiful Regensburg, Germany. There you will dive into the culture and history of the "Great Awakening" of the Christian church and trace its German origins.
Other opportunities include studying with knowledgeable professors at Oxford University, incorporating Christian values in the film industry in Los Angeles, or even gain exposure to real-life journalism through a summer program.
At Corban, you aren't limited to Salem; you have an opportunity to see the world! Click here for more information about Corban's Study Abroad Programs.
Will I feel safe on campus?
Campus safety is a priority at Corban with a certified, full time Executive Manager of Security, and where the trained security staff provides qualified protection.
Does Corban have a good athletic program?
Corban is a member of the Cascade Collegiate Conference and is affiliated with the National Association of Intercollegiate Athletics (NAIA). Corban offers 13 intercollegiate sports where athletes have captured 12 conference and six National Christian College Athletic Association (NCCAA) national championships over the past ten years. Corban has added six new team sports since 2003-04 -- Men's & Women's Cross Country, Men's & Women's Golf, Softball, and Men's & Women's Track & Field. To learn more, visit: www.gowarriorsgo.com.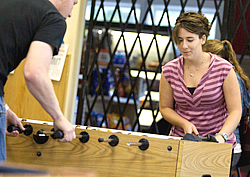 What is residence life like at Corban?
Living on campus is always fun. Corban University has five residence halls, two cottages, and townhouses where students live. Each hall has a resident director (RD) and a student residence assistant (RA) who are there to help you establish independent lifestyle. Underclassmen are required to live on campus and are accountable to the RA's for regulations that provide for safe and responsible living. For more information contact Student Life at 503-375-7010 or studentlife@corban.edu.
Fast Facts
Corban is an independent Christian university established in 1935 offering undergraduate and graduate level degrees.
Academic Programs:
Corban offers more than 50 undergraduate majors and program options as well as graduate and undergraduate degrees for working adults. More
Location:
Salem, Oregon's capital, has a greater population area of 170,000. It is 45 miles south of Portland; one hour from the mountains and the coast. We also have hundreds of students attending a Teachers College and an International Teachers College connected to Universitas Pelita Harapan, near Jakarta, Indonesia. 
Study Abroad:
Corban offers AMBEX as well as 14 other study abroad programs.
Enrollment:
2,300 (2015-16)

Student/Faculty Ratio:
14:1
Annual Cost:
(Traditional Undergraduate Program)
Tuition and Fees:
$28,980 (2015-16)
Room & Board:
$9,240 (2015-16)
Average Financial Aid Amount:
(Traditional Undergraduate Program)
$25,520 in scholarships, grants, and loans (2015-16)
Corban University gives approximately 45% of its traditional undergraduate tuition revenue back to students in grants and scholarships.
Updated 11/3/15