About Corban University
Corban University is an independent Christian university in Salem, Oregon, with more than 50 majors and programs of study including professional, liberal arts, and ministries. Along with traditional and adult degree completion programs at the undergraduate level, Corban offers graduate teacher licensure programs and graduate degrees in education, business, ministry and counseling.
Accreditation
Corban is accredited by the Northwest Commission on Colleges and Universities. As a member of the Association of Christian Schools International (ACSI), Corban's Education program is approved to culminate in an ACSI teaching certificate. It is also approved by the State of Oregon to prepare both elementary and secondary teachers for licensure. More information on our accreditation.
Our distinction is relationship— faculty to student and student to student. The members of the Corban community are here to help students succeed. Our motto, Dedicating Heart and Mind to God, is a very real part of our process.
Recognitions
For the 11th year running, Corban University was ranked in the Top Ten in the West for regional colleges in the "U.S. News Best Colleges." The guide ranked Corban eighth for 2013.
"We continue to deliver good academics, a solid campus experience and competitive athletics," said Corban Registrar Chris Vetter. "This sets us apart year after year. Students truly appreciate what Corban has to offer them."
Additionally, Corban ranked sixth for best value in the same category.
U.S. News & World Report's guide to best colleges is a tool often used by college seekers and parents when looking for academic quality and cost when choosing a school. The publication ranks colleges according to the Carnegie Classification of Institutions of Higher Education. Its Best Regional College classification focuses on colleges offering a broad range of liberal arts programs.
Corban also received national recognition by the Best Christian Workplace Institute ranking it as the number one Christian workplace in 2006 among similarly sized colleges.
A student survey conducted by The Princeton Review lists Corban as one of the best colleges in the U.S. western region. Corban is one of the 129 schools profiled in the regional college guidebook, The Best Western Colleges.
Our Mission
To educate Christians who will make a difference in the world for Jesus Christ. Based on Matthew 28:19-20
To foster a transformative learning culture where a sustainable biblical worldview takes shape.
To build a Christian community that promotes worship, creative expression and activities that reflect God's character.
To cultivate a life of stewardship and service toward God, humanity and creation.
History
Corban University has its roots in Phoenix, Arizona where it began as a Bible institute in 1935. Relocating to California in 1946, the university changed its name to Western Baptist Bible College and operated there until moving to Oregon in 1969.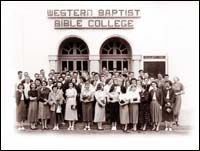 In 1955, the University received degree-granting status from the State of California Department of Education. In 1959, it received national accreditation as a Bible college by the American Association of Bible Colleges. In 1968, it was regionally accredited and after moving to Oregon was accredited by the Northwest Commission on Colleges and Universities. Over the years, the University has gone from a Bible college to a university offering programs in biblical studies, the liberal arts, and professional studies.
In 2005 the name was changed to Corban in order to enhance our ability to reach out to all evangelical churches. The name, a biblical word meaning "a gift dedicated to God," and motto, "Dedicating Heart and Mind to God," reflect the mission of the university.
Student Services
Chapel Program; Associated Students of Corban University; Career Services; Community/Church Service; Counseling; Camp Teams; Leadership Development; Academic Services Center; Campus Dining; Core Groups; Fellowships; Intercollegiate Athletics; Intramural's; Health Services; Library; Campus Bookstore.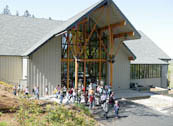 Library
In addition to having a combined 115,000 volumes and 600 current periodical subscriptions on its two locations (Salem and Tacoma) , Corban's membership in the Oregon Private Academic Library Link (OPALL) provides direct patron access to an additional 400,000 titles and 650,000 volumes. The library and its users also have access to over 24,000 full-text journals in electronic format. The library houses the Prewitt/Allen Archaeological Museum, a collection of Middle East artifacts, unique on the West Coast.
Our Identity
Corban University is an academic community with a Baptist heritage that bases its existence on the concept of ministry through the application of the "Great Commission" as presented in Matthew 28: 19-20, "Go therefore and make disciples of all nations…teaching them to observe all that I commanded you…" All our academic programs are Christ-Centered equipping students to have a biblical worldview on all issues of life.
Corban is a member of the Council for Christian Colleges and Universities.
Athletics
Corban is a member of the Cascade Collegiate Conference and is affiliated with the National Association of Intercollegiate Athletics (NAIA) and the National Christian College Athletic Association (NCCAA). Corban offers 13 intercollegiate sports – Baseball, Men's and Women's Basketball, Men's and Women's Cross Country, Men's and Women's Golf, Men's and Women's Soccer, Men's and Women's Track & Field, Softball, and Women's Volleyball – where athletes have captured 10 regular season conference titles, eight conference tournament crowns, and six NCCAA national championships. To learn more about the Warriors, visit corbanwarriors.com.
Fast Facts
Corban is a residential, independent Christian university established in 1935 offering undergraduate and graduate level degrees.
Academic Programs:
Corban offers more than 50 undergraduate majors and programs of study as well as graduate and undergraduate degrees for working adults.
More
Locations:
Salem, Oregon's capital, has a greater population area of 170,000. It is 45 miles south of Portland; one hour from the mountains and the coast. Corban's Tacoma campus overlooks the Puget Sound at 4301 Stevens St., Tacoma, WA 98407.
Study Abroad:
Corban offers AMBEX as well as 14 other study abroad programs.
Enrollment:
1,160 students (2012–2013)

Student/Faculty Ratio:
13:1
Annual Cost:
(Traditional Undergraduate Program)
Tuition and Fees:
$25,976 (2012-2013)
Room & Board:
$8,590 (2012-2013)
Average Financial Aid Amount:
(Traditional Undergraduate Program)
$21,600 in scholarships, grants, and loans in 2011-2012.
Corban University gives approximately 45% of its traditional undergraduate tuition revenue back to students in grants and scholarships.
(Updated 9/6/12)