Office of Campus Safety
---
A Message from the Chief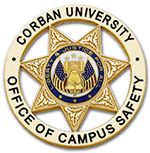 On behalf of the Office of Campus Safety, I would like to thank you for taking the time to visit our page. Campus Safety's goal is to provide professional services which promote and maintain a safe and secure environment so that the University's educational mission of "educating Christians who will make a difference in the world for Jesus Christ" can be achieved.
-- Chief Michael Roth, Director of Campus Safety
---
Vehicle Registration, Paying Tickets, or Fees
---
Register a Vehicle
Ticket Appeal Form
Payments
To view fine amounts visit the "Automotive Regulations" page. 
       Schedule to pay in office 
Pepper Spray Training Class
Thursday August 31st 3:30-4:00
Friday September 1st 4:00-4:30
Saturday September 2nd 2:00-2:30
To sign up visit the link!
---
Automatic Emergency Defibrillators locations:
---
Gym - whirlpool room
Library - main floor
Psalm Center - main entrance
Schimmel Hall - 2nd floor
---
Quick Links:
---
Staff/Faculty Vehicle Registration
Clery & Risk Assessment Travel Form NEW