Office of Campus Safety
---
A Message from the Chief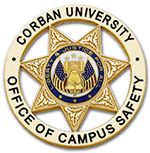 On behalf of the Office of Campus Safety, I would like to thank you for taking the time to visit our page. Campus Safety's goal is to provide professional services which promote and maintain a safe and secure environment so that the University's educational mission of "educating Christians who will make a difference in the world for Jesus Christ" can be achieved.
-Michael Roth, Director of Campus Safety
---
Vehicle Registration, Paying Tickets, or Fees
---
Register a Vehicle
Ticket Appeal Form
Payments
To view fine amounts visit the "Ticket and Parking Information" page. 
       Schedule to pay in office 
Pepper Spray Training Class
To sign up visit this link!
---
Automatic Emergency Defibrillators locations:
---
Gym - whirlpool room
Library - main floor
Psalm Center - main entrance
Schimmel Hall - 2nd floor
---
Quick Links:
---
Clery & Risk Assessment Travel Form NEW
Staff/Faculty Vehicle Registration