Prior Presidents
Arthur H. Woods, Rev. [1912-1997] [1942-1944]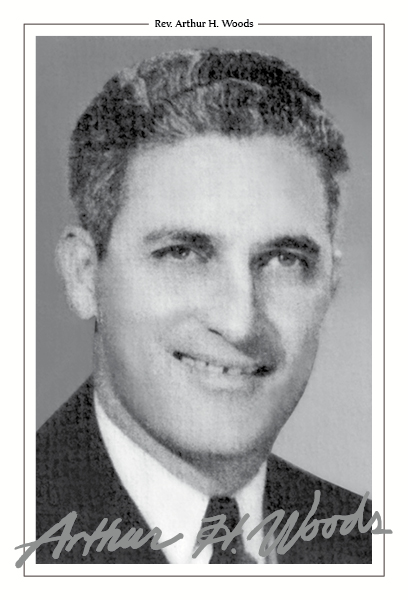 Arthur H. Woods served as a board member, faculty member and the first president of Phoenix Baptist Bible Institute, 1943-44. Woods trained at Moody Bible Institute where he met his wife. He served the Evansville Rescue Mission, Evansville, Ind., for two years and pastored a church in Owensville, Ind., for 18 months. Woods conducted child evangelism and radio ministry work in Pennsylvania before moving to Phoenix to take the pastorate of Bible Baptist Church in 1942. He was also instrumental in organizing the early setup of Phoenix Bible Institute.
Eugene C. Eymann, Rev. [1899-1981] [1944-1946]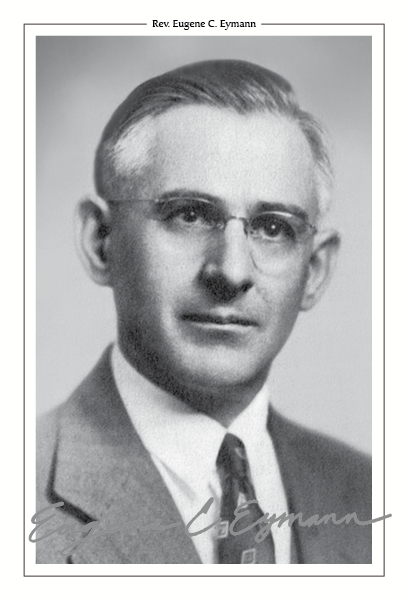 Eugene C. Eymann received his Bible training in Los Angeles at BIOLA, a B.A. from UCLA, and an M.A. from USC. He also prepared for ministry by attending the Los Angeles Baptist Seminary for one year.
Eymann served as a Phoenix Baptist Bible Institute board member and as a faculty member, teaching Systematic Theology, Bible Doctrine, Synthesis, and Christian Evidences. He became president in 1944 and served until 1946. At that time he resigned to remain in Phoenix and became president of Arizona Bible Institute (ABI). He resigned from the presidency there in 1949 but continued on the faculty until 1962.
After leaving ABI, Eymann served in a number of ministries. After a life of service to God, he retired in Phoenix to be near his sons, and remained there until his death, June 26, 1981.
Herbert Farrar, Jr. Rev. (1908-2013) [1946-1948]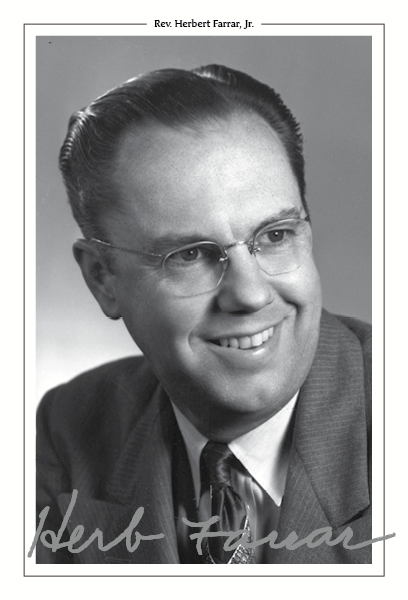 Herbert Farrar, Jr., served on the Board of Trustees, and later, as president from 1946 to 1948. Farrar was the first president at the newly incorporated Western Baptist Bible College in Oakland, Calif. Farrar attended Santa Rosa Community College and later attended Moody Bible Institute, graduating in 1932 in Bible and music.
Following his education, Farrar traveled as an evangelist for three years and was later ordained in Grand Rapids, Mich., by well-known pastor, David Otis Fuller. He married Mabel Marie in 1934. Throughout his ministry he loved to sing and write poetry, and continued to do so after age 100. He was a prolific hymnologist and recently donated as many as 200 of his notes and song sheets to the Corban presidential archives. He resides in Spokane, Wash.
Heber Osborne Van Gilder, Dr. [1897-1987] [1948-1965]
H.O. Van Gilder was born in Fairmont, W. Va. 
He attended Fairmont State College for two years. In 1918, he married Belle Lynch and moved to Philadelphia, where in 1922 he graduated from Philadelphia Bible Institute.
During Bible School, he pastored the First Baptist Church in Perkasie, Pa. He then moved to Columbus, Ohio, and accepted the pastorate of Central Baptist Church, and went on to pastor several churches until 1944 when he left to become the first national representative for the GARBC and editor of the Baptist Bulletin.
He left his responsibilities as national representative in 1948 to become president of Western Baptist Bible College. His 16 years as president remains as the longest of any term for the University.
Fred R. Brock, Jr., Dr. [1910-1983] [1965-1973]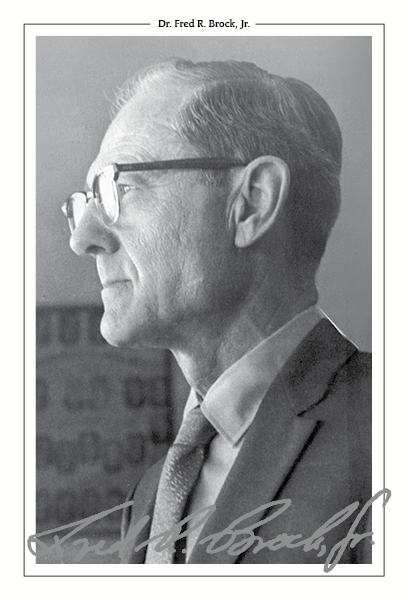 Fred R. Brock, Jr., was born in Flint, Mich. He attended the Moody Bible Institute in Chicago and graduated from the pastoral course in 1932. He married Dorothie Tuttle and reared four sons. After years of pastoral and missionary work, Brock began his service as a member of the Board of Trustees in 1944 and as a part-time instructor in 1946. In 1957 the College honored him with the Doctor of Divinity degree.
Brock became acting president of Western Baptist Bible College in June of 1964, and following the resignation of Dr. H.O. Van Gilder, was permanently appointed to the office of President on April 27, 1965. He served as president until 1973, and then as chancellor until 1975.
W. Thomas Younger, Dr. [1928-2003] [1973-1983]
W. Thomas Younger was raised in Gary, Ind. with one sister, Dorothy. He married Davina Wallace in 1949. He attended Baptist Bible Seminary, then in Binghamton, N.Y., graduating in 1950. In 1968 he received a Bachelor of Arts degree from Fort Wayne Bible College (Indiana). He was also honored with a Doctor of Divinity degree in 1970.
In 1956 he was called to Fort Wayne, Ind., to pastor Immanuel Baptist Church that led in the establishment of 12 independent, sister churches. He became the sixth president of Western Baptist Bible College in 1973. During his presidency he instituted the business, psychology and education majors. He taught evangelism, church growth and leadership seminars, and provided oversight in raising $9 million, which included the funding for the construction of the C.E. Jeffers Sports Center.
John G. Balyo, Dr. [1920 – 2009] [1983-1992]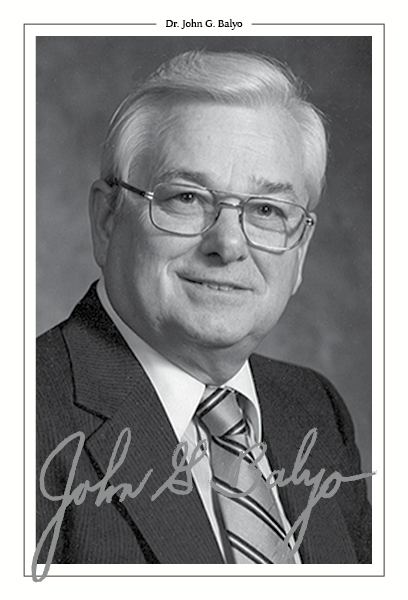 John G. Balyo was born in Greenville, S.C. He graduated from Atlanta Law School in 1940, and Valparaiso University, Goshen College, and Grace Theological Seminary in Winona Lake, Ind., where he received his M.Div degree. He married Betty Lindstrand in 1945 and they served in many ministries throughout his life.
In 1983, instead of retiring, Balyo became the seventh president of Western Baptist College, and later, chancellor in 1991 and president emeritus in 2004. He was later honored with the naming of the newest residence hall on campus as the John G. Balyo Residence Hall.
Balyo's presidency was successful in rebuilding enrollment and financial stability. His steady, calming leadership bore the College through difficult years, and he brought respect and confidence to the office.
David F. Miller, Dr. [1940-2012] [1992-2000]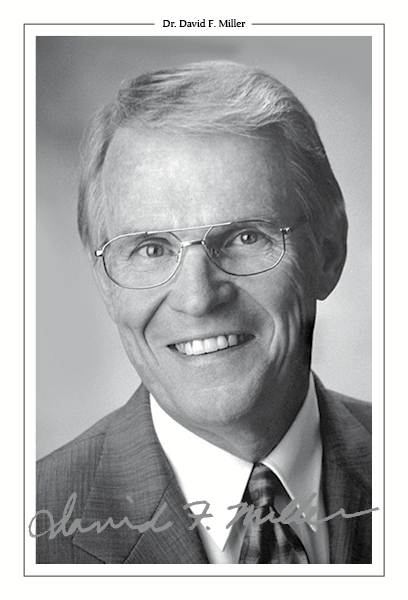 David F. Miller was born in Cleveland, Ohio. David applied and entered Western Baptist Bible College (WBBC) in El Cerrito, Calif. He married Koyce (Morgan '61) and then entered San Francisco Conservative Baptist Theological Seminary, graduating in 1968, and his doctorate at Grace Seminary, Winona Lake, Ind.
During the eight years of his presidency the College saw the construction of new residence halls and student apartments, a computer network, a new athletic field complex, the adult studies program, and was credited in clarifying the core values, core beliefs and core purpose which are vital to our mission.
After 34 years at the College, Miller became pastor of First Baptist Church in Walnut Creek, Calif., in 2000.
"It's about a life of righteousness, not a list of rules." –David. F. Miller
Reno R. Hoff, Dr. (1935-2013) [2000-2013]
Dr. Reno R. Hoff was born in Eureka, S.D., and married Linda Dollinger in 1958. He attended college at Northern State Teachers College in Aberdeen, and Stockton College; obtained a B.S. degree in theology and finance from WBC; a Master of Science from Oregon College of Education; and received an honorary degree from Western Baptist College in 2000.
He served as business manager, VP for administration, and executive vice president/provost until assuming the presidency in 1999. His work philosophy was "to give leadership to carry out the vision of my predecessors, and to be an implementer in order to see how God will bless."