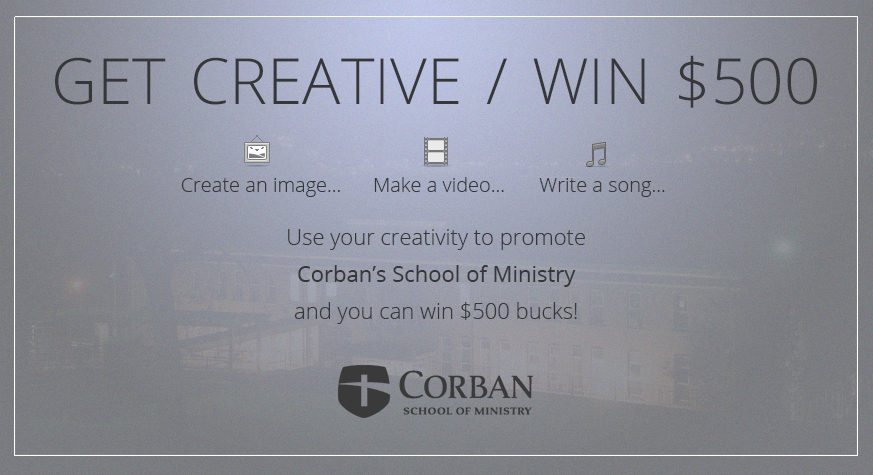 Post your own pic, vid, song, etc. about the School of Ministry to Corban's Facebook page. Get the most likes, and you'll also get $500 bucks!
Your entry can be anything you like! Just say something about the School of Ministry page: www.corban.edu/cusm, and you're in!
Drum up support! Tell your friends about your entry and blatantly get them to Like it!
Complete Contest Rules:
How to Enter: Create an image, video, audio or other media-based entry. Submit your entry by posting to Corban's Facebook page: http://www.facebook.com/CorbanUniversity
Qualified entries must refer to Corban's School of Ministry page: www.corban.edu/cusm and must not violate any laws.
The entry that receives the most Likes wins $500!
Likes will be tallied on April 1st, at noon.
Offensive or inappropriate entries may be removed, as determined by Corban's Facebook administrator.
Participants must be 18 years or older to win. Contest is open to everyone: students, faculty and staff, family, friends, groups, etc. No purchase necessary. Participants may submit as many entries as desired. You need not be present to win. Void where prohibited.
All taxes relative to the prize package are the sole responsibility of the winner. No prize substitutions, assignments or transfers.
By participating, all entrants acknowledge and agree that they have entered the contest of their own free will, that the full rules and details of the contest have been made available to them in writing and they therefore understand and agree that neither the Corban University, its agents, affiliates, sponsors, representatives or employees have any liability with respect to any damages out of acceptance and use of a prize. By entering this promotion, participants agree to be bound by these rules.