Church Relations
Corban University is an interdenominational Christian university with 45 majors and programs of study including professional, liberal arts and ministries. Adult degree programs and graduate studies in education, combining online work with on-campus studies, are also available. Corban is accredited by the Northwest Commission on Colleges and Universities.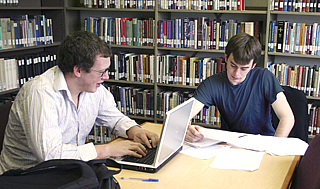 Corban's education program is accredited by the Association of Christian Schools International and approved by the State of Oregon to prepare both elementary and secondary teachers for licensure. Corban is consistently recognized by U.S. News & World Report and The Princeton Review as one of the west's top ten comprehensive colleges.
Our distinction is about relationships — student to student and faculty to student. The members of the Corban community are committed to helping students succeed. Our motto, "Dedicating Heart and Mind to God," is a very real part of our education process.

Our endeavor:
To foster a transformative learning culture where a sustainable biblical worldview takes shape.
To build a Christian community that promotes worship, creative expression and activities that reflect God's character.
To cultivate a life of stewardship and service toward God, humanity and creation.
Support Corban from your missions budget
Why not? Through our equipping and releasing ministry, Corban uniquely addresses the Great Commission as defined in Matthew 28:19-20. Being equipped throughout their college experience, students are released at graduation to make a difference in the world for Jesus Christ. The Corban experience is built upon the philosophy of integrating Bible truth into all worldviews. We see Bible integration to be an essential ingredient to a college education, for in the real world very few people will formally enter the "mission field."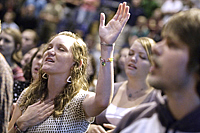 Corban does not compromise its commitment to academics, but we also don't stop there. Faculty blend traditional academics with faith, bringing students to a new place in their spiritual journey. It's a matter of grounding faith into all things and all thinking, similar to the Apostle Paul's mission as written in Colossians 2:2-3:
"My purpose is that they may be encouraged in heart and united in love, so that they may have the full riches of complete understanding, in order that they may know the mystery of God, namely Christ, in whom are hidden all the treasures of wisdom and knowledge."
Consider these facts:
96% of students graduating in 2006 would choose to attend Corban again.
86% of Corban alumni are active in local churches.
95% of Corban alumni see their career as an aspect of personal ministry. National studies show that 25 years after college, graduates still carry the values and philosophies of their professors. This is important when you consider the lasting impact from those college years. In contrast, the same studies show that over 50% of born-again students feel after four years in a secular school that they no longer believe they are Christian.
The Corban Fund
Tuition alone is insufficient to cover Corban's annual expenses. Each year, Corban grants over $5 million in scholarship aid, and $375,000 of that comes from the Corban Fund. This Fund relies solely on the generous donations of churches, alumni and friends of Corban University. From this pool of resources, more than 80% of Corban students are provided life impacting opportunities – studying each subject in light of God's truth, being transformed in mind and character, and learning to serve as a living testimony of Jesus Christ. Every month, church fellowships throughout the northwest support the Kingdom through Corban. Learn more about how your fellowship can be a partner by contacting the Office of Advancement at (503) 375-7003 or email a message to advancement@corban.edu.